Areas of Expertise
Working across the Morningside, Manhattanville, Baker Athletic, Nevis Laboratories, and Lamont-Doherty campuses.
February 13, 2023
Facilities and Operations has released new design guidelines for laboratory and research facilities on all Columbia campuses, serving as an outline for Columbia project managers, architects, engineers, and laboratory design consultants to create consistently designed, best-in-class environments for researching and teaching.
December 12, 2022
The disability access lift in the International Affairs Building received a Citation Award from the American Institute of Architects (AIA) Westchester + Hudson Valley Chapter as part of their 2022 Design Awards ceremony.
October 18, 2022
Columbia University continued the trend of sustainable new construction with its new Business School buildings, Henry R. Kravis and David Geffen Halls, and The Square, a one-acre public green space, which combined were awarded LEED® Gold certification from the U.S. Green Building Council (USGBC).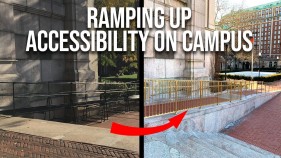 Columbia has made it a mission to improve the accessibility of its campus to the fullest extent possible while maintaining the integrity of Columbia's historic architecture.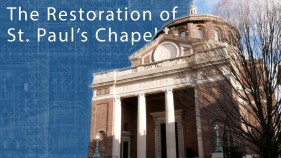 From 2017 to 2019, the chapel underwent a historic restoration, including a complete replacement of the terra cotta roof, repair and cleaning of the interior Guastavino tiles at the dome and main altar, and more.
Highlights of recent academic, research, and student life capital investment across the Morningside campus.
ACTIVE CONSTRUCTION PROJECTS
Use the map below to view active construction projects on the Morningside and Manhattanville campuses. Click on each individual icon for a description of the project and its anticipated completion date.