Low Steps Restoration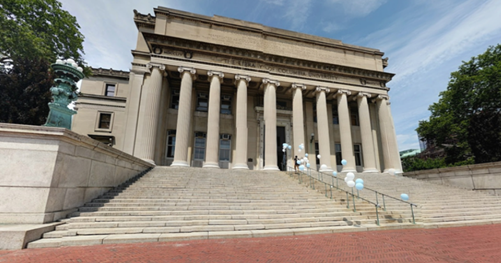 About the Project
In summer 2022, Facilities and Operations is restoring the uppermost section of the iconic granite steps leading to Low Library and reconstructing the brick pathway behind Alma Mater while addressing underlying waterproofing and structural conditions. This critical rehabilitation project will help preserve a centerpiece of Columbia's historic Morningside campus for years to come. 
Purpose and Benefits
The project will address natural wear and tear of the steps and pathway that have been in place for over 100 years. Existing conditions include cracks in the steps, uneven settling, and open joints and gaps between steps that have allowed water to infiltrate the underlying structure. In addition, the basement-level rooms of Low Library located beneath this section of steps have been subject to water leaks and damage.  
This work follows extensive architectural investigations and a multi-year planning process. Upon completion of the work, the entranceway granite steps will be cleaned and restored while also creating a more even walking surface, addressing waterproofing issues, and installing new and more secure handrails. The pathway at the foot of the upper steps (behind Alma Mater) is being reconstructed to create a smooth, level surface and improve drainage - using new red bricks in keeping with McKim Mead & White's original intent.  
Project Scope
The scope of work includes: 
Remove and catalogue existing granite steps in the section leading to the main entrance of Low Library  

Reconstruct and repair underlying structure supporting the granite steps  

Install waterproofing to protect the basement of Low Library from future leaks  

Structural steel repairs in Public Safety spaces located below the steps  
Clean, sandblast, and refinish existing granite steps in preparation for reinstallation  

Replace cracked steps with new granite steps  

Install new bronze handrails leading from north of Alma Mater to the main entrance of Low Library  

Reconstruct the brick pathway nearest to the front of Low Library (behind Alma Mater) from column to column, extending to the flagpoles on the east and west should time permit.
Schedule
Work is taking place from May 23 through approximately late August 2022. Work hours will be 7:00 a.m. to 5:00 p.m. daily, including weekends. 
What to Expect
The following conditions and potential impacts are anticipated during the course of the project: 
Closure of the main entrance to Low Library and the brick pathway behind Alma Mater from the southeast to southwest flagpoles. The southeast and southwest entrances to Low Library will remain accessible while work is being performed.   

Lewisohn Lawn will be used as a project staging area for equipment and temporary storage of the granite steps.  

A flagperson will be in place on the west side of Low Library to direct traffic as materials are brought to and from Lewisohn Lawn and the project site.  

Some intermittent noise from chopping and from trucks beeping, as well as other typical impacts associated with construction.  
For More Information
During the course of the project, the project team will provide regular project updates to preview the work that will be happening. If you have any questions or concerns about this work, please call the Columbia University Facilities Services Center, 24 hours a day, seven days a week, at (212) 854-2222 or email [email protected] (emails are responded to during regular business hours). We apologize for any inconvenience and thank you for your patience.