Low Library Monumental Window Restoration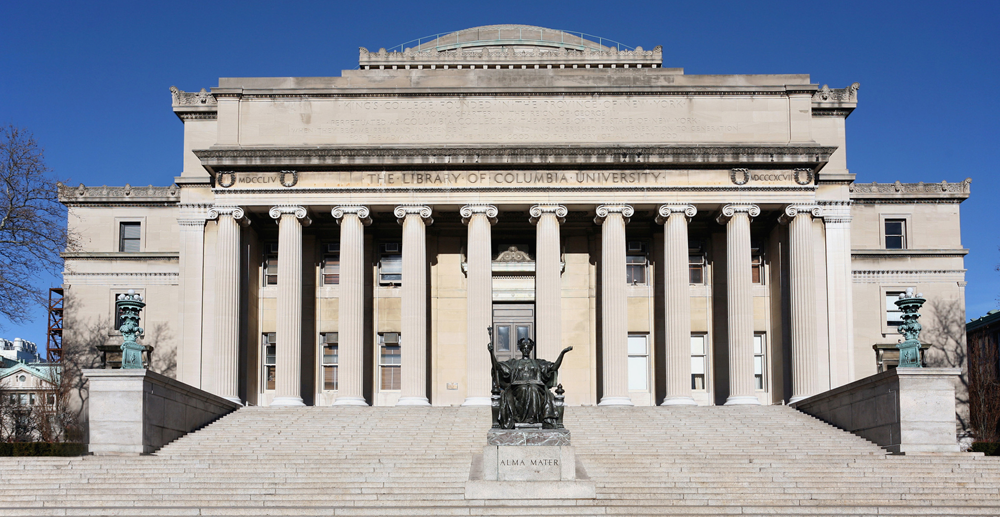 About the Project
Facilities and Operations is performing an exterior project at Low Library to restore the original historic cast-iron framed monumental arch window on the west side of the Rotunda.  The west monumental window restoration follows the previous restoration of the south and east windows, with the north window to be restored in the future.
What's Happening
Columbia University has initiated a three-phase, year-long restoration of the monumental cast iron windows by the west gallery in the Rotunda will commence due to deteriorating conditions. The scope of work includes the removal of existing window frames and parts, offsite restoration, and reinstallation of the restored window frames and parts. Upon completion, the project will improve weather proofing in addition to restoring the conditions of the window frame and parts.
For the first phase, taking place into the fall of 2021, the window parts will be removed and sent off-site to a cast-iron specialist for fabrication (phase 2).  In spring/summer of 2022, we will receive the window parts back for the third and final, reinstallation phase, with final project completion anticipated by December 2022.
During the removal phase, sheds and pipe scaffoldings will be erected on the interior over the west gallery, with an additional soundproof barrier installed adjacent to the interior scaffolding to minimize construction noise. On the exterior, pipe scaffolding will be installed at roof level adjacent to the monumental window, and protective shedding, a hoist and stair tower will be erected on the exterior at Low's northwest corner. When the window is removed for fabrication, in its place will be a custom-built, plywood barrier with double insulation providing noise and thermal protection, painted to match the color of the roof.
Schedule
Work hours for the removal phase will be 8:00 a.m. to 4:00 p.m., with some work occurring during overnights between 10:00 p.m. and 6:00 a.m. to reduce disruption to work areas and event spaces.  The final project completion is anticipated by December 2022, weather permitting.
What to Expect
Expect some noise and other impacts typically associated with construction projects. Once the first phase is complete, the ground level shedding, hoist and stair tower at the northwest corner will be removed and reinstalled for the project's conclusion in 2022. The interior and roof-level scaffolding will remain in place for the project's duration.